Welcome to Idea Studio Africa!
A place for you to practice & build skills and experiences to launch,
pivot or grow your career, ideas or business.
Enroll for the ISA Entrepreneurship Program
An immersive & flexible program for individuals and teams looking to validate business ideas or refine and grow viable businesses.
Program starts June, 2023.
Start your journey as a
Human-Centered Designer
The Human-Centered Design Program is for anyone looking to learn & practice Design Thinking & Human-Centered Design as an approach to problem-solving.
A learning, career acceleration and entrepreneurship studio with a learner-centered & community-powered approach.
Idea Studio Africa is an immersive learning, skills development and entrepreneurship studio.
We help individuals, entrepreneurs and teams build meaningful skills, work experience, mindsets, community, networks and opportunities needed to accelerate their careers, ideas, businesses and impact.
We design and run community learning experiences, masterclasses, and fellowship programs that are centered around the needs of our learners, existing opportunities and the changing landscape of work and entrepreneurship.
Our programs are curated in collaboration with industry partners, learning experts, and other stakeholders with the goal of taking the learners to the next level in their journey.
Workshops and Masterclasses
Looking for more flexibility? Start your learning journey with our carefully curated workshops and masterclasses. Workshops typically range from a few hours to a day while masterclasses are a series of workshops that range from 2 days to 2 months.
Current fellowship programs
Whether you're an individual looking to transition careers or take your career forward, or an entrepreneur looking to grow your business, the ISA fellowship program is just what you need. Our fellowships are immersive in nature and range from 3 to 6 months
What you get as an Idea Studio Africa Fellow
At Idea Studio Africa, we pride ourselves in delivering the highest quality of learning experience to our participants. Idea Studio Africa provides:
A learning & practice environment
Access a supportive and flexible learning environment to upskill, learn and practice the skills for the future of work and entrepreneurship.
Immersive & meaningful projects
Work on real, immersive and meaningful projects and challenges with expert facilitation and practical learning to help deepen your skills and abilities.
Tools & resources
Access the tools and resources needed to help you practice your skills and abilities; all while creating value at work or in your business.
Credibility & brand
Build and leverage strong network opportunities; while showcasing your credibility and value to achieve your career and life goals. You will also measure, evaluate and share your growth and progress.
A lifelong community
Access (life and career) mentors, coaches and experts to help you navigate your current journey. Learn and grow alongside other ambitious professionals and visionary entrepreneurs.
Access to post-program support
Whether you're looking for meaningful work opportunities or follow-up support to launch and grow your venture, ISA is the right place for you.
Belong to an incredible community of lifelong learners, innovators and experts.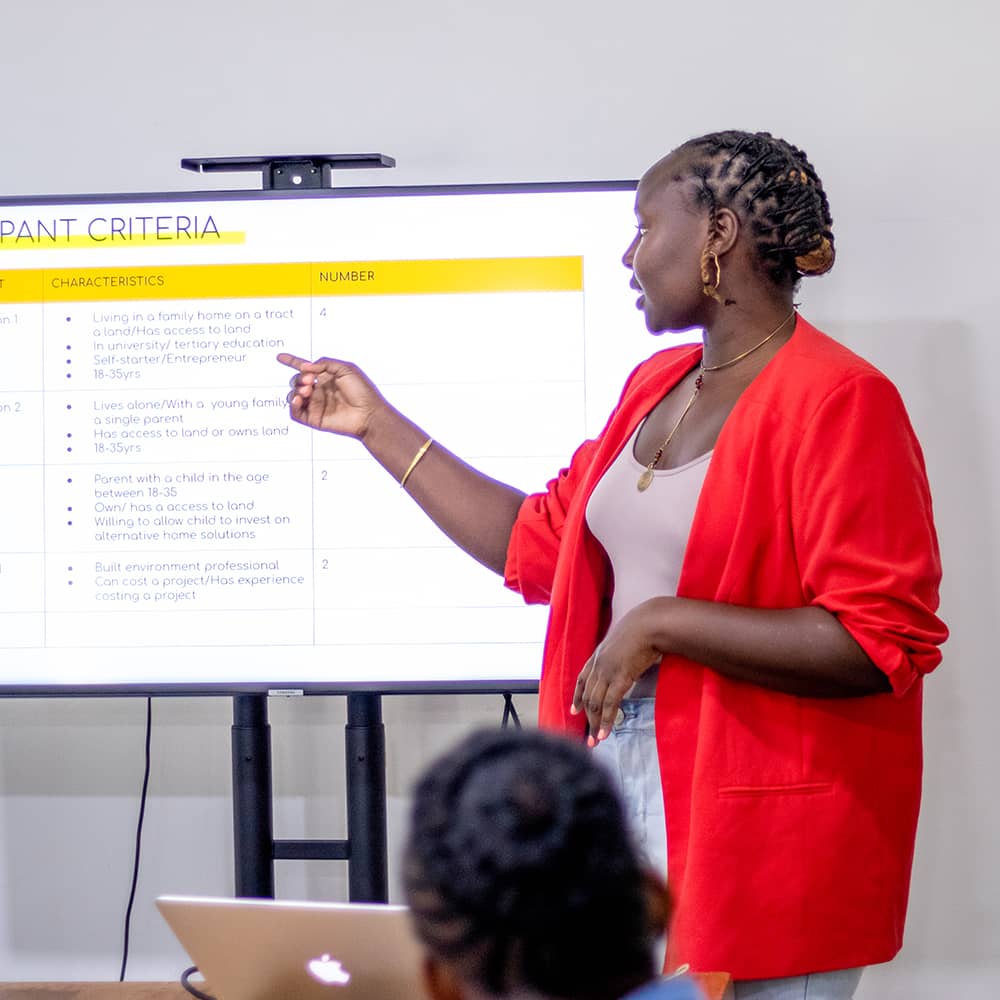 Partner with Us
We are excited to collaborate with individuals and organizations who have a shared vision of developing and investing in talent in Africa in the research, design, innovation, and entrepreneurship space. Join us in investing in today's innovative talent as a project partner, funding partner, talent partner, or investment partner.
Join as a Learning Support Member
Looking to deepen your work or impact by developing bold and innovative talent across Africa?  Idea Studio Africa collaborates with skilled individuals and experts with lived experience as curriculum designers, session facilitators, coaches, mentors, project advisors, and much more. We would like to hear from you!
A message from our past fellows!
Enough talk,
Join the future of work and entrepreneurship.
Partnership inquiries: hello@ideastudio.africa
Fellowship inquiries: join@ideastudio.africa
Phone: +254716 665414